Meet the Team
Founder and Editor-in-Chief
Winter is a genderqueer humyn (who uses they/them pronouns) intent on changing the world for the better. Founded in 2013, Posture is one of the only arts & fashion magazines in the world that is specifically and inclusively focused on identity.
Author
Annie Rose is a visual artist and writer living and working in Brooklyn. She holds an MFA in Photography, Video, and Related Media from SVA. Annie's pursuits include Special Projects Manager of the poetry collective Gemstone Readings, and writing art reviews for various online publications. Her current interests include individual isolation and gothic net art, digital trauma, anonymity, and sex work.
Author
Anthony Rosado is a Queer AfroTaino Bushwick Native who uses his curation, performances, installations, collages, and writing to expand consciousness on the necessity of glorifying Black & Non Black POC Ancestors & communities.
Author
Antwaun Sargent is a writer living and working in New York City.
Author
Candice is a Grassroots Organizer and Arts Incubator based in NYC. Recently, she's traveled the country volunteering for the Bernie Sanders campaign. Her other grassroots work has been centered around issues such as homelessness, racial injustice, immigration rights, and clean energy. Previously, Candice has worked a producer and curator in film, photography, and music events.
Author
Fashion Editor / Copywriter / Specialist in early to mid 20th century fashion and textile history
Author
Corinne Goldenberg is a queer femme and global wanderer who writes about intersectional feminism and the confluence of gender and sexuality. She studied Women and Gender Studies at Smith College and International Affairs at the New School.
Author
Cristóbal Guerra is a queer visual artist, writer and organizer born and raised in San Juan, PR. Currently living and growing in Brooklyn, NY.
Author
Bryant's work is inspired by personal experiences, experiences of the people around him and dreams and feelings. He believes art should make people feel something, whether it be anger or joy. If a piece doesn't cause a conversation, the artist hasn't done his or her job.
Film Editor
Film Editor / neurotic film fiend
Author
Ebony P. Donnley is an East Oakland native, UCLA alum, award-winning writer, performing artist and audio engineer, soon to begin a graduate program for film scoring at NYU. Much of Ebony's work addresses Afrofuturistic joy and the inherent beauty of black women despite racial conditioning to see otherwise. She was a 2009 Youth Speaks Brave New Voices International Poetry Slam champion, and in 2016 she performed for the opening of the Smithsonian National Museum of African American History and Culture in Washington, D.C.
Efrem Zelony-Mindell is a painter, curator, and writer. His curatorial endeavors include shows in NYC: n e w f l e s h and Are You Loathsome. He writes about art and photography for DEAR DAVE magazine, VICE, Mossless, L'Oeil de la Photographie, and aCurator. He received his BFA from the School of Visual Arts.
Author
Geoff Mak serves as Fiction Editor of The Offing Magazine. His literary features have appeared in Forbes, Flavorwire, Guernica, and the Los Angeles Review of Books. His interview subjects include Rachel Kushner, Ben Lerner, Karen Russell, and Justin Torres. His art criticism has appeared in The Brooklyn Rail. He divides his time between New York and Berlin, and is currently at work on a novel.
Author
Greg Mania is a writer and comic based in New York City. For more work visit his website www.greg-mania.com.
Author
Jacy is a lesbian freelance writer. Her work focuses on feminism, music, LGBTQ culture, food and wine.
Author
Marina Dojchinov is a writer, producer and editor who is a citizen of the world, and has lived in Australia, London and New York. She has guest lectured world wide, and an avid Ben & Jerry enthusiast. She is also obsessed with her cat Cedric.
Maya is a Brooklyn-based writer and editor with a background in art history and critical theory. Her work can be found in Artforum, Blouin Art+Auction, and Artspace, as well as several academic journals. Her interests include cross-cultural narratives and the intersection between contemporary art and marginalized bodies. She holds a B.F.A. in Visual and Critical Studies from the School of Visual Arts.
Author
Niccolò is a freelance translator and writer. When he's not busy guzzling Margaritas, he's planning how to become a millionaire or a retired cat-person.
Author
Nick Santa-Donato is a writer and a designer specialist at Barneys New York. He also maintains social media accounts for the University of Fashion, an online fashion education startup.
Author
We are a creative sister-duo who've been working together since forever. We moved our cooperation to the more professional level, when we founded ok, sister in 2014. The name ok, sister represents the mutual understanding and aesthetic connection between the two of us. It's ok, sister!
Author
A Southern state expatriate, Sarah Fonseca reconciles her fraught heritage by living in the same Brooklyn neighborhood that birthed Stonewall Jackson. She is currently at work on two nonfiction chapbooks: one about queer rural transiency, the other on impostresses (both personally and historically known). A Lambda Literary Foundation Fellow and Aly Harbuck Scholar, Sarah's work can be found at Autostraddle, Buzzfeed, Medium, and A Quiet Courage. She also blogs at girlsinmitsouko.tumblr.com.
Author
Shane'a (she/her/her/Thomas), Oshun's daughter, Oya's sister, artist, professor, therapist, book nerd and ratchet TV enthusiast's superpower is encouraging healing, light and self-awareness in others. Through her magic, Shane'a is building her life's work on the foundation that all people have the right to exist and to love and be loved, without pain or persecution.
Author
Sophie Sotsky is a Brooklyn-based writer, editor, dancer and choreographer. She is the founder and Artistic Director of TYKE DANCE.
Author & Photographer
Xeno is a queer Puerto Rican artist and musician working in diverse media. They divide their time between New York & Berlin.
Author
Yeni's a queer Latinx immigrant who writes stuff, draws stuff, is occasionally mistaken for a truant teenager, and is a real person with feelings.
Allee Manning is a queer feminist writer with a special interest in LGBTQ politics, art, and culture. She lives and works in New York, but dreams of moving to the country and opening a dog sanctuary. You can read her tweets at @AlleeManning.
Photographer
Allison graduated from Marymount Manhattan College with a BA in Photography. She currently works as a photographer, graphic designer, and mixed media artist. Her favorite things are cameras, coffee, and puppies.
Photographer
Gizelle Peters is an artist and photographer currently based in Brooklyn, NY, with roots in Chicago, IL. Gizelle is best known in NY for her unique visual expression of the Queer and Lesbian nightlife events scene. Among her personal projects, you will find her delicate and nostalgic vision in her still life and portrait work.
Photographer
Marie is an artist who was born in Czechoslovakia who has exhibited internationally. She received her M.F.A. in Visual Arts from Czech Republic and currently lives and works in Brooklyn.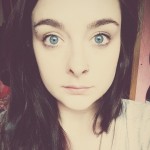 Graphic Designer
Serena Wagner is a Graphic Designer living in Wisconsin. She graduated from the University of Wisconsin-Eau Claire where she got her B.F.A. in Graphic Design. She currently works as a designer for Volume One Magazine in Eau Claire, Wisconsin. You can find her surrounded by the untamed forests of the Midwest with a guitar in hand.
Author & Photographer
Shea Carmen Swan is a recent graduate from The New School with a BA in Journalism + Design and a minor in Gender Studies. Shea is a founding staff member of Posture Magazine. Shea is also a passionate photographer by day and DJ Recklez by night.
Photographer
Tafv Sampson is a film photographer from Portland Oregon who currently studies at The International Center of Photography. Coming from an art department background in film and editorial, her photography has a cinematic and narrative style. She lives and works in Brooklyn.
Intern
New York based creative enthusiast with a passion for photography and all things film.